In honor of our upcoming mission trip to Haiti, we feel it is important to know a little background about the educational initiatives and systems that affect the communities of Haiti.
In 2010, an earthquake crushed the population of Haiti, destroyed the existing infrastructure, and caused the national debt to rise to prevent rebuilding efforts.
Currently, 59% of its population lives below the poverty line.
Literacy Rate: 53% of its population do not know how to read.
The official language taught in primary schools is Creole.
Haiti follows after the French education model of three stages: primary education, secondary education and higher education.
Primary education ages begin at 6 years old and consist of preparatory, elementary, and intermediate cycles, each of which lasted two years.
Tuition in public schools is legally free for the first two cycles of fundamental education (elementary), 81.5% of these children go to private schools and pay fees.
To transition into secondary education, students are required to receive a primary education certificate (CEP) and take an entrance exam which is estimated that only 2% of children pass.
The education system uses French as the language of instruction. Less than 10% of the population speaks French.
Upon passing these extensive state exams, hosted by The Ministry of National Education, those students would be able to continue their education in either a public or private institution.
The secondary level consists of a 3-year lower cycle and 4-year upper cycle. Students able to pass into secondary education would receive the baccalauréat (the equivalent of the high school diploma).
Secondary school means earning a baccalaureate. However, only upon completion of the classe de philosophie exams entitles a student to proceed to a university.
There are a limited number of regional public universities and institutions; while private institutions with higher tuition and fees. Less than 1% of the college age group are enrolled at the university level.
We value education and cherish that basic human right!
With our partnership with the buildOn organizations to present the School Build Project- Haiti, we will be able to contribute to bettering a rural community in Haiti. This school will serve over 400 children and adults from a rural community and will serve as a catalyst for sustainable and positive community development.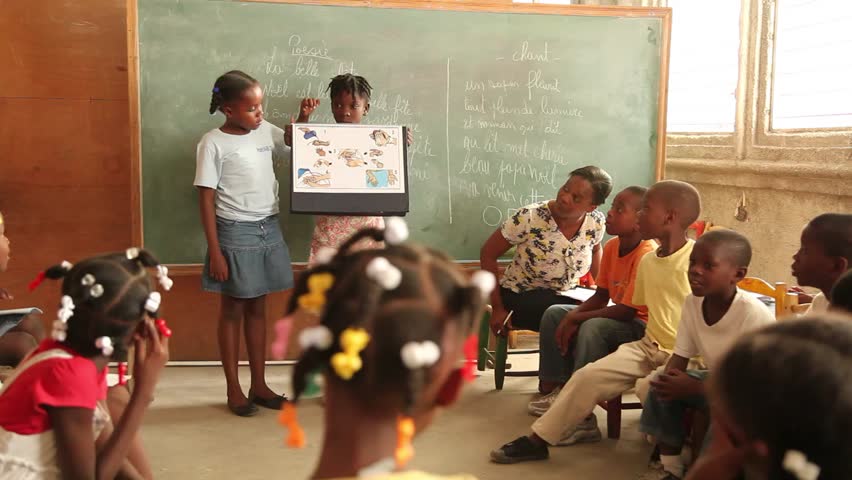 References:
The World Bank GDP Growth, World Bank, https://data.worldbank.org/indicator/NY.GDP.MKTP.KD.ZG (last visited Feb. 10, 2019).
Danielle N. Boaz, Examining Creole Languages in the Context of International Language Rights, 2 Hum. Rts. & Globalization L. Rev. 45, 49 (2008)
Georges E. Fouron, The History of Haiti in Brief, in THE HAITIAN CREOLE LANGUAGE: HISTORY, STRUCTURE, USE, AND EDUCATION 23, 24 (Arthur K. Spears & Carole M. Berotte Joseph eds., 2010).